Diocese of San Carlos Stewardship and Philanthropic Development Office
Organization
san carlos city,

Negros Occidental, Philippines
1
campaign
93
contributions received
₱4,788,289
raised
Member since September 2021
Delete media item?
Delete this item from the media gallery? It will also be deleted from any related story update.
Set as ?
The campaign video will appear in social media and email.
The campaign cover picture will appear in social media and email.
The will appear at the top of your campaign page and in social media and email.
Reset ?
It won't be used as default in social media and email. The will remain in the media gallery.
It will be removed from the top of your campaign and won't be used as default in social media and email. The will remain in the media gallery.
Delete update
Delete this story update?
Any pictures or videos will remain in the campaign's media gallery.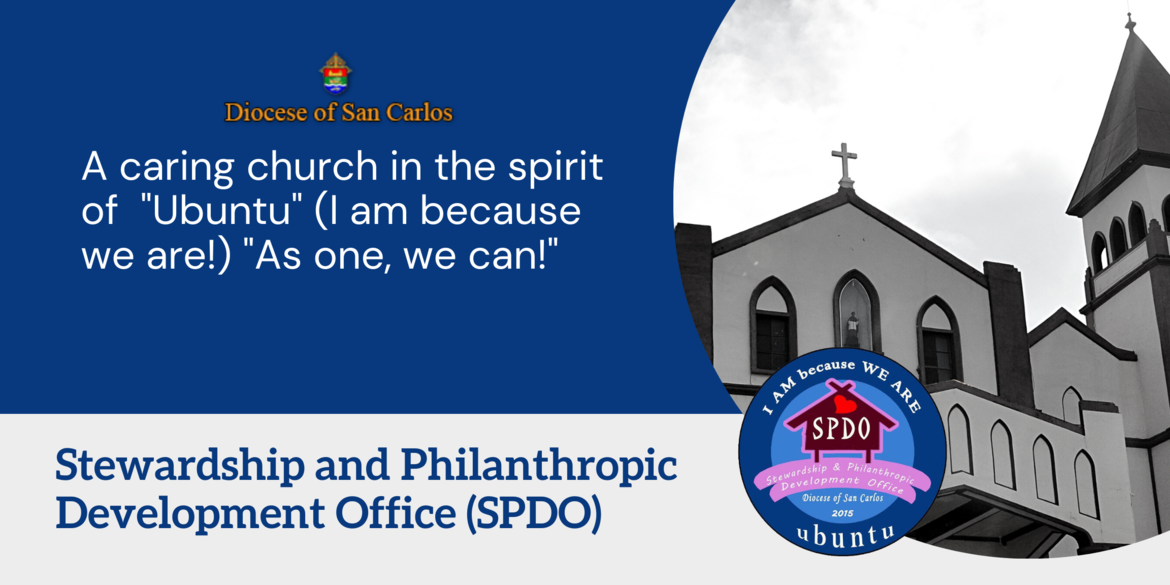 SPDO Vision-Mission
A strong and joyful solidarity among lay, religious and clergy for service of all, especially the lost, least, last, and left out...
...ready and able to go anywhere even to the most difficult to reach, assured of support from everyone, starting from the bishop and his collaborators...
– a caring church in the spirit of "Ubuntu" (I am because we are!) "As one, we can!"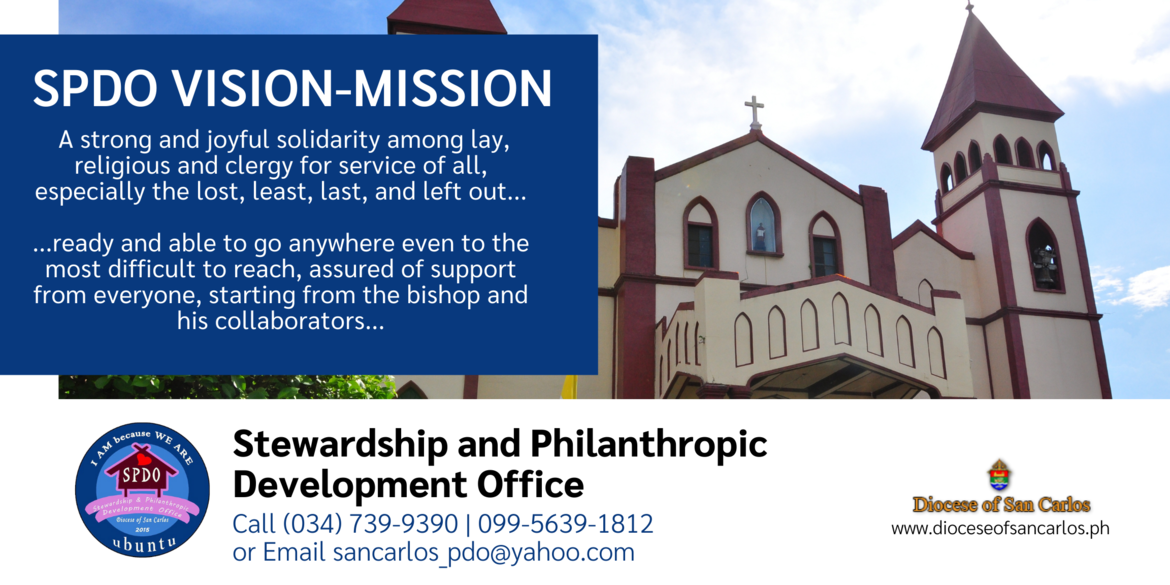 ORGANIZATIONAL CHART
MOST REV. GERARDO A. ALMINAZA, D.D
Director
REV. FR. ALWEN L. JIMENEZ
Deputy /Marketing Director
Ambassadors:
Rev. Fr. Alwen Jimenez
Rev. Fr. Marjun Almario
Rev. Msgr. Erwin Magnanao, VG and Rev. Fr. Joven Opalda, MD
Rev. Msgr. Jing Baldo
Rev. Fr. Johnry Jacosalem
Rev. Fr. Deary Jara
Rev. Fr. Julius Montaño and Rev. Fr. Emerencio Pila
Rev. Fr. Ricky Beboso
Rev. Fr. Joseph Tubiera
Rev. Fr. Kenneth Emmanuel Razonable
Rev. Fr. John Florence Bartolo
Rev. Fr. Ruslan Templado
Rev. Fr. Martin Brodit Jr, JCL
Rev. Fr. Juluis Tormis
NIKKI JANE O. VALLENTE
Database/communication and Events Coordinator
ERICK JASON J. BATUTO
Management Information System Officer
ADVOCACIES
PROJECTS/PROGRAMS:
EDUCATION SCHOLARSHIP FOR PAROCHIAL SCHOOLS
SCHOLARSHIP FOR THE CLERGY
SCHOLARSHIP FOR THE SEMINARIANS
PROJECTS/PROGRAMS:
FORMATION OF PASTORAL WORKERS AND LEADERS
PARISH FORMATION TEAM
FORMATION OF GKK/BEC AND WESTO LEADERS
PASTORAL MINISTRIES (WESTOY)
SEMINARY FORMATION & VOCATION
– FR. JULIUS MONTAÑO AND FR. EMERINCIO PILA
PROJECTS/PROGRAMS:
ON GOING FORMATION OF FORMATORS
BOARD & LODGING OF SEMINARIANS
SEMINARY OPERATION
SEMINARY FACILITY
SEMINARY LIBRARY
VOCATION CAMPAIGN
HUMAN RESOURCE DEVELOPMENT

– FR. ALWEN JIMENEZ

PROJECTS/PROGRAMS:
CLERGY
SICK PRIEST/SOCIAL SECURITY
RETIREMENT AND PENSION
RETREAT AND RECREATION
CLERGY PILGRIMAGE/SABBATICAL PROGRAM
DEVELOPMENT OFFICE BUILDING CAPACITY
DIOCESAN AND PARISH PERSONNEL DEVELOPMENT
COMPENSATION AND BENEFITS PROGRAM
TRAINING/RETOOLINGOF LAY LEADERS
FINANCIAL PLANNING AND DEVELOPMENT
TAKES CARE OF THE NEEDS OF THE DIOCESAN LAY PERSONNEL
ON GOING CLERGY FORMATION

– MSGR. JING BALDO & MS. MAYETTE BUGAOAN

PROJECTS/PROGRAMS:
CLERGY RETREAT AND RECOLLECTION
SEMINARY FORMATORS FORMATION
CLERGY PILGRIMAGES
CLERGY RENEWAL PROGRAMS AND ACCOMPANIMENT
CLERGY FESTIVAL
SOCIAL ACTION

– FR. RICKY BEBOSO

PROJECTS/PROGRAMS:
LIVELIHOOD AND SKILLS TRAINING
HEALTH & ALTERNATIVE MEDICINE PROGRAM
FEEEDING PROGRAM
DISASTER AND RISK MANAGEMENT
ENVIRONMENT & CLIMATE CHANGE
GOOD GOVERNANCE
FARMERS,FISHERMEN, IP's & OTHER SECTORAL ADVOCACIES
TRANSPORTATION
MISSION AND EVANGELIZATION

– FR. JOSEPH TUBIERA

PROJECTS/PROGRAMS:
CATECHESIS
CATECHESIST'S FORMATION
CATECHETICAL FUND
CARE FOR THE DISABLED
DEAF MINISTRY
PWD
LOCAL AND FOREIGN MISSION
MISSION STATION
LITURGY

– FR. KENNETH EMMNANUEL RAZONABLE

PROJECTS/PROGRAMS:
FORMATION OF MINISTERS
VESTMENTS, SACRED VESSELS, LITURGICAL BOOKS
LITURGICAL MUSIC DEVELOPMENT
WORSHIP
INFRASTRUCTURE

– MSGR.ERWIN MAGNANAO, VG & FR. JOVEN OPALDA, MD

PROJECT/PROGRAMS:
SEMINARY

SEMINARY BUILDING
SEMINARY FACILITIES AND EQUIPMENT
SEMINARY LIBRARY

RETREAT HOUSE
RETIREMENT HOME
CEMETERY
INFRASTRUCTURE ON SCHOOLS

STUDENT DORMITORY
SCHOOL FACILITIES AND EQUIPMENTS
SCHOOL LIBRARY
SCHOOL CLASSROOMS
COVERED COURT
BISHOP'S HOME COMPLEX

PRIEST'S DORMITORY
COVERED COURT
ROAD CONCRETING
GREEN REVOLUTION
RETIREMENT AND NURSING HOME
YOUTH

– FR. JOHN FLORENCE BARTOLO

PROJECTS/PROGRAMS:
SPORTS
CULTURE AND ARTS
TEATRO DE UBUNTU
YOUTH FORMATION PROGRAMS
YOUTH GATHERINGS
WORLD YOUTH DAY
REGIONAL YOUTH DAY
NATIONAL YOUTH DAY
DIOCESAN YOUTH DAY
YOUTH CAMPS
CLERGY HEALTHCARE

– FR. RUSLAN TEMPLADO

PROJECTS/PROGRAMS:
CARE FOR ELDERLY AND SICK PRIESTS
FACILITATE HEALTH AND LIFE INSURANCE
FOLLOW UP PENSION PLANS AND BENEFITS
FAMILY AND LIFE

– FR.MARTIN BRODIT JR, JCL

PROJECTS/PROGRAMS:
PRE-CANA
MARRIAGE ENRICHMENT
NATIONAL FAMILY PLANNING PROGRAM
COUNSELING SERVICES
MINISTRY FOR MIGRANTS AND THEIR LEFT-BEHIND FAMILIES
VIPS (PRISON MINISTRY)
INTEGRAL ECOLOGY

– FR. JULUIS TORMIS
MASS MEDIA & SOCIAL COMMUNICATIONS

– FR. MARJUN ALMARIO

 

FOR DONATIONS:

 

ACCOUNT NUMBER                        :                               121-7-12153570-6

ACCOUNT NAME                              :                               Roman Catholic Bishop of San Carlos

BANK                                                    :                               Metrobank San Carlos City Branch

                                                                                                San Calos City, Negros Occidental

SWIFT CODE                                       :                               MBTCPHMM

BANK CODE                                        :                               121

G-CASH                                                 :                               0945-459-1688

                                                                                                Roman Catholic Bishop of San Carlos

 

 

 

 
Organization activity
Nothing to show yet.
Organization campaigns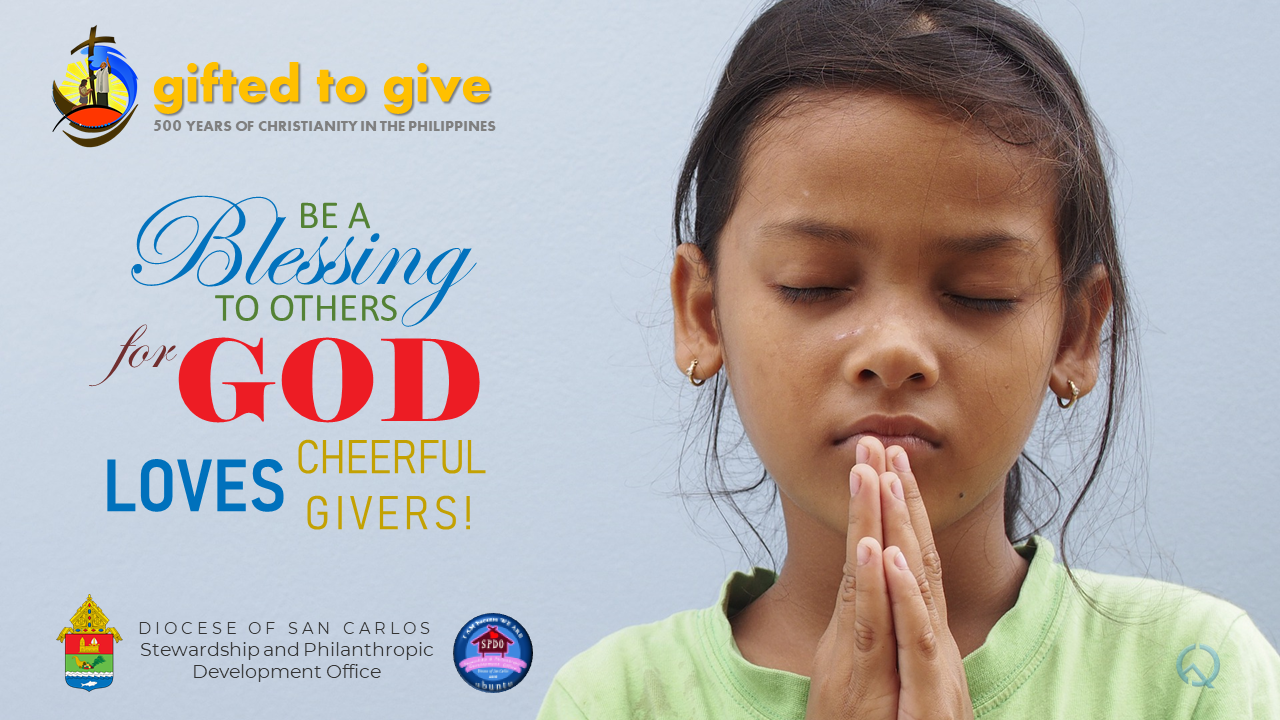 STEWARDSHIP AND PHILANTHROPIC DEVELOPMENT OFFICE in the Diocese of San Carlos is a vehicle to nurture the Spirituality of Stewardship and the Culture of Giving, Sharing and Service. Please support and be one in our advocacies!
₱4,788,289
raised so far
99 Weeks running
Profile privacy settings
Public profiles are indexed by Google and other search engines.

Show the number of campaigns run, contributions received, total raised, and date the organization started with FundRazr.
Show a chronological feed of contributions, campaigns milestones, etc.
Stats and activity can only be shown when the profile is public.
It might take up to 3 minutes until changes appear for visitors.